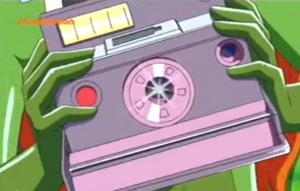 Overview
The Crim Cam Catcher is used in "The Dusk of Dawn". Shaped in the form of a Polaroid camera, it is able to capture and suck in a person with a snap of the photo. It also seems to work on characters projected on film as it sucks Durlock and Cheston. It is not shown how they are released but in the case of Durlock and Cheston they were able to run loose in the theater, and that the screen was damaged.
Trivia
Clover initially thought that it was an actual camera and started posing for pictures when Samantha suggested they use it. 
It was still going through the testing phase.
Gallery