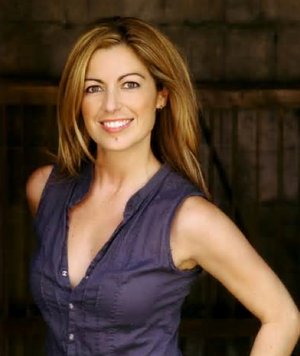 Katie Griffin; born on January 14, 1973; is a Canadian actress, voice actress, and singer. She is best known for voicing Alexandra, Caitlin, Tara, and Mindy in the English version of "Totally Spies!". She is also the V.A. of Sailor Mars in Sailor Moon.
Biography
Toronto native, Katie Griffin, has been a professional actor, voice actor and singer for over 20 years. Having worked with acting powerhouses such as Nicole Kidman, Glenn Close, Matt Dillon and Rob Lowe, Katie's film and television career has been colourful to say the least. Her true strength and success, however, has come in the form of voice-over. She has sung numerous radio jingles and voiced hundreds of radio and television commercials. She still continues to star in popular cartoons. Although best known as Raye/Sailor Mars in the hit show Sailor Moon, she's also known for her portrayal of Alex in Totally Spies, Yoko in Team Galaxy, Zair in Redakai as well as voicing Julie and Sellon in Bakugan Battle Brawlers and Hikaru in Beyblade. She was also Nina Harper" in Emmy award-winning Braceface, Ruby on Max and Ruby and Laugh-a-lot Bear in Care Bears: Journey to Joke-a-lot. She has also had numerous guest starring roles on shows such as 6-teen, Stoked and The Dating Guy.
Personal life
Griffin is married to the Canadian singer and songwriter Michael Kulas. The couple have one child together. Kulas is famous for his time with the English indie band, James.